Setting Spa
•Pre Move •Spa Delivery Access •Pre delivery •Sitting Spa

•Services •Spa Moving Service Location •Spa Hot Tub Move

•Spa Hot tub Moving Removal
| | |
| --- | --- |
| | So you're getting a Spa Relax! Setup is really no big deal, if you do a little advance planning and preparation. We'll show you what you need to do to make your installation as smooth as possible. Also, be sure to read your entire owner's manual, prior to installation. |
Site Selection
You may already have a special indoor or outdoor spot picked out for your new hot tub, whether it be a lightweight soft spa such as hot tub, or a larger model such as Hot tub or full-sized hot tub. Regardless, it is your responsibility to make sure the site is properly prepared, whether on the ground, on a floor, deck, patio or slab.
All of the spas are designed for either outdoor or indoor installation, although most people prefer outdoors. Make sure that you observe the following:
Since a filled spa will have considerable weight, make sure it is placed on a structurally-sound surface which will support the weight of the spa, water, and occupants. Uneven and unsound surfaces can damage the spa and void your warranty.
If outdoors, make sure that the site has adequate drainage so that rainwater will not be able to pool around the spa.
Level the surface before filling spa with water.
Plan in advance for proper access to power source and circuit panels.
Leave access to the hot tub's removable equipment compartment panel for future service needs.
Preparing an Outdoor Site
Most spa owners will put their new spas outdoors. Here we describe various options to provide a firm level surface, unless you already have a suitable existing patio. Keep in mind that installing your spa on the ground without a perimeter boardwalk, paver stone, concrete sidewalk or other suitable walkway will result in an increase in the amount of debris that is inadvertently brought into the hot tub on user's feet. A perimeter walkway can of course be added later.
Prefabricated Spa Pads
| | |
| --- | --- |
| | EZ Pad are a great alternative to poured concrete, and provide a very attractive base. This superb inter-locking pad system is quick and easy to set up, maintenance-free, and can be a lot less expensive than other systems. |
The pads interlock to make a rigid base for your hot tub. Unlike poured concrete, the base can be easily removed later if desired.

Each pad measures 32" x 48" and are sold in cartons of three pads each. Six pads (2 cartons) make an 8' x 8' platform.
Gravel Base
| | |
| --- | --- |
| | Gravel or crushed rock is one of the least expensive materials for a spa base. Be sure that the ground underneath is properly compacted to prevent future settling, level, and that rainwater drainage is considered. An access walkway of stepping stones is a nice finishing touch. |
Poured Concrete Slab
Concrete is a good, long-term foundation base. Although not inexpensive, it's low maintenance and adds value to your home.

Reinforced concrete at least four inches thick, that can support a weight of at least 115 lbs. per square foot is recommended, especially for larger spas. Make sure concrete is fully cured before placing spa, and code conforming.

| | | | |
| --- | --- | --- | --- |
| | | Consider the many textures, patterns and colors of decorative stamped concrete. | |
Paver Stone
Concrete pavers are a beautiful base material, available in a wide array of choices. Whether you do-it-yourself, or hire a landscaping contractor, make certain that the base is prepared according to the stone manufacturer's specifications and leveled to ensure a stable foundation.
Deck Installations
| | | |
| --- | --- | --- |
| If you plan a deck site, you must first determine the deck's maximum load capacity. Consult with a qualified building contractor or structural engineer before placing your hot tub on an elevated deck. The manufacturer of your spa can give you its filled weight. Remember to also add the weight of the occupants. The spa's weight per square foot must not exceed the rated capacity of the structure to avoid damage and possible injury. | | |
Deck designs and configurations are limited only by one's imagination. Set-top deck installations are best because they allow easy access to the spa cabinet for cleaning and maintenance. If you decide to build a deck around your hot tub, be sure to allow for access to the equipment compartment panel so that future service is not hindered.
Indoor Spa Setup
Indoor installations have special considerations. The room should be properly ventilated to allow moisture to escape. Using your hot tub for 15 minutes releases the equivalent water vapor as a shower of the same duration. Installation of a bathroom fan or other venting system is a good idea to prevent excess condensation in the room.

Unless placing the spa on a suitable concrete slab, you will need to verify that the supporting floor structure will accommodate the filled weight of the spa with occupants. A qualified contractor or a structural engineer can help you determine that requirement. Check your spa's specifications for the estimated weight load of the filled unit. (A gallon of water weighs approx. 8.35 lbs.)

If building a new room for the spa, a floor drain is a good idea since water may be splashed from the tub. Select flooring which provides a good grip for wet feet.
Electrical Service Requirements
240 Volt Spas
| | |
| --- | --- |
| | Full-sized acrylic spas are designed for the most part to operate on hard-wired, GFCI-protected 220-240V 50 amp circuits. Some spas with multiple pumps may require a 60 amp service. Refer to your owner's manual for specifications. |
| | |
| --- | --- |
| These spas must be wired by a qualified electrician. The National Electrical Code specifies that a manual disconnect device for your hot tub be installed at least 5 ft. away, and within line of sight of the spa for safety. Consult with your local building department for additional information. | |
| | |
| --- | --- |
| | We recommend our easy-to-install Spa Disconnect 60A GFCI Panel. This load center will handle 220-240V spa loads up to 60 amps (or less). Even if you spa has a lesser load, this model will allow the extra capacity for future upgrades. Example: for a spa requiring a 50A service, a standard 50A breaker would be used in the main service panel. |
Plug-n-Play 110 Volt Spas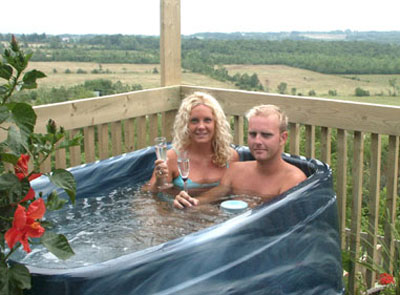 There are quite a few plug-n-play lightweight portable spas available today which use standard household voltage of 110-120 volts.
Many plug-n-play spas operate on a standard 15 amp household circuit. These have a GFCI built into the end of the cord, and plug right into the outlet.

Note: Dedicated circuits are required to prevent overload. Read your owner's manual.
Getting Ready for a spa
Access for Larger Spas
Prior to the arrival of your new spa, you should ensure that there is clear access for moving the spa from the truck to the setup location. It may be necessary to remove a section of fence, trim tree branches or shrubs, move a doghouse, firewood stack or any other protrusions that might be in the way. Check also for overhead clearance.
Upon Arrival
| | |
| --- | --- |
| | If you are receiving your spa factory-direct, it will be shipped by truck. Normally the freight company will contact you by phone in advance of the delivery, to let you know the expected arrival window. You will need to be on hand for the delivery of the spa and it is a good idea to have a Diaz Service crew in hand to move the spa afterwards. |
| | |
| --- | --- |
| | Some spa are private party sold This usually means that your spa will have to be loaded and transported to your home . In this case, it is usually your responsibility to move the spa. Diaz Service will provide this service for your convenience. |
| | |
| --- | --- |
| | If you are replacing an existing non working spa. Removal of the old spa can take place on the same day that your new spa arrives to your home or at an earlier date. The spa can be removed either by rolling it on its side or cutting the spa each with their own price. |
Positioning the Spa
| | |
| --- | --- |
| | It's usually a moving crew that shows to move the spa to the designated location with a furniture dolly-- a wheeled frame with carpeted pads. When the crew arrives they first examine the area and look for access-then the spa is wrapped in a stretch film plastic to ensure that no scratches or any other damage occurs. Once that is done we carefully place the spa on a dolly (on its side) and roll it out on to the truck. We then strap and fully secure the spa on to the truck bed. Once we are at the drop-off Location we work backward on the process just described. |
Although rarely needed, in instances where the setup location of a spa is inaccessible by normal means, a crane service can position it.

This costs less than you might expect, often just a few hundred dollars depending upon the job scope and location.
Startup

With your spa in its final location and wired correctly, you can begin with startup. Make sure you have read your owner's manual before proceeding:
Turn off all electrical power to the equipment at the circuit breaker.
Make sure that the spa's gate valves are open if so equipped (consult owner's manual).
Check to see that drain valve is closed.
Clean interior of spa with suitable mild, non-foaming, non-abrasive cleaner.
Check to see that the filter(s) are properly seated.
Using garden hose, fill spa with clean cold water to level specified in owner's manual. Low water levels can cause damage to the pump and heater element.
Open equipment door and observe for any leaks around union fittings. Tighten if necessary.
Turn on power at the circuit breaker.
Operate your spa's controls per owner's manual instructions.
Balance your water chemistry and use a sanitizer system.
Heating
| | |
| --- | --- |
| | Don't expect to immediately feel hot water from the jets. Initially, the hot tub may take approximately from 7-8 hours to a day to heat, depending upon its size and other factors. |
Water Balance & Sanitizer

Nothing is more important in promoting long equipment life, and healthy, clean, clear spa water than assuring that your water is balanced and properly sanitized at all times. Once you get the hang of it, it is a simple routine.


IMPORTANT:

The information provided here is for educational purposes only. It is neither a substitute nor a replacement for information contained in your owners manual. Consult with your local building department, qualified licensed contractor, or structural engineer for structural and electrical requirements as appropriate.